You

and Meet The Need
Bringing Help and Hope to a Hurting World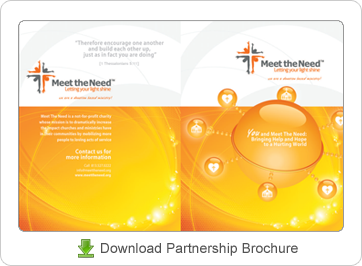 We know your goal and prayer is to unite and mobilize the Body of Christ to serve those in need in your community – and it's ours as well. Meet The Need is excited about partnering with you to help make that vision a reality. That's why we developed a powerful platform to:
Enhance your ability to be a catalyst for making your city and our nation more compassionate, caring, and hope-filled
Make your organization a central "hub" of volunteer, resource, family, and event opportunities to serve those in need in your city and region
Increase the value of your organization in the eyes of your church and ministry partners by providing them with an incredibly powerful networking and communication platform that maximizes their impact in the community
In addition to our Video and Webinar on our home page, click on the following links to learn more about the benefits of Meet The Need for you, how to set up Meet The Need, and easy ways you can share Meet The Need with the churches and ministries in your network:
Share Meet The Need!
Terms of Use | Privacy Policy | Contact Us
©2023 MEET THE NEED MINISTRIES, INC.
Meet the Need Ministries, Inc. is recognized by the Internal Revenue Service as a 501(c)3 public charity.